Last week Katy Perry was named as the new face of GHD's latest hair campaign.
Why did they choose her?
"Katy is the epitome of modern fashion and styling. Her unique, ever changing looks are the envy of style devotees around the world. Katy completely embodies GHD's spirit of female transformation and empowerment, as she is recognised as a cutting edge style icon unafraid to push fashion and beauty boundaries. Sassy, stylish and sexy, Katy is the perfect partner for GHD," says Paul Stoneham, Chief Executive Officer, GHD.
Is there anyone who doesn't want a piece of the Perry pie?
Let's take a look at some of the photos ...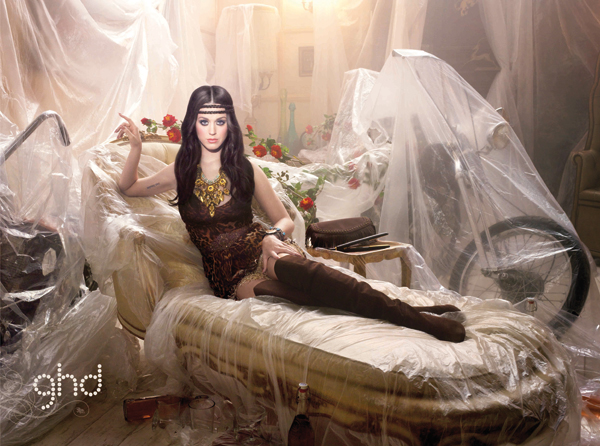 On first glances of the last photo, she looks a lot like Dita Von Teese, no?
Katy did a q&a with Beautylish. You can read the full interview here but below are just a few of her answers!
Q: What or who are the influences behind your own personal style?
There's a big range of women who have influenced my style, from fictional or nonfictional characters. Lolita, for instance, has been a fashion icon for me, the way I imagine her and the way I've seen her in both the black-and-white and color movies. Some cartoon influences are Judy Jetson, Betty Boop and Wonder Woman. And of course, the real people: Dita Von Teese, Daphne Guinness, Agyness Deyn, Chloe Sevigny. Those women are my style icons.
Q: What is your favorite way to wear your hair?
I have two favorite looks. I like to wear a high, 1980s ponytail, a la Madonna, and I like to do a really nice 1940s set, a la Veronica Lake.
Q: What's your favorite look or outfit on the California Dreams tour?
My cupcake-tiered skirt.
Q: Working with pros all the time, have you picked up any hair and beauty tips?
I think sleep is the key to a fresh look—eight hours is a must for me. I also think that hygiene is really important—I'm a big teeth/breath hygiene person. I think bronzer and a little bit of mascara go a long way. I love trying different types of mascara. The blue mascara from Dior is really fun. It gives you a whole different look.
Q: You're an inspiration to women around the world, what advice would you give them about being a successful and confident woman?
It's really all about developing who you are inside first and foremost, and once that is on the right track, you can play around with different products and things. I believe in integrity and respect, and I believe in independence. I can be a feminine woman without being a male-hater.
Q: What is your top hair tip?
My tip is to wash your hair every other day, rather than every single day so your hair doesn't get too dried out. Your natural oils are friends, not foes.